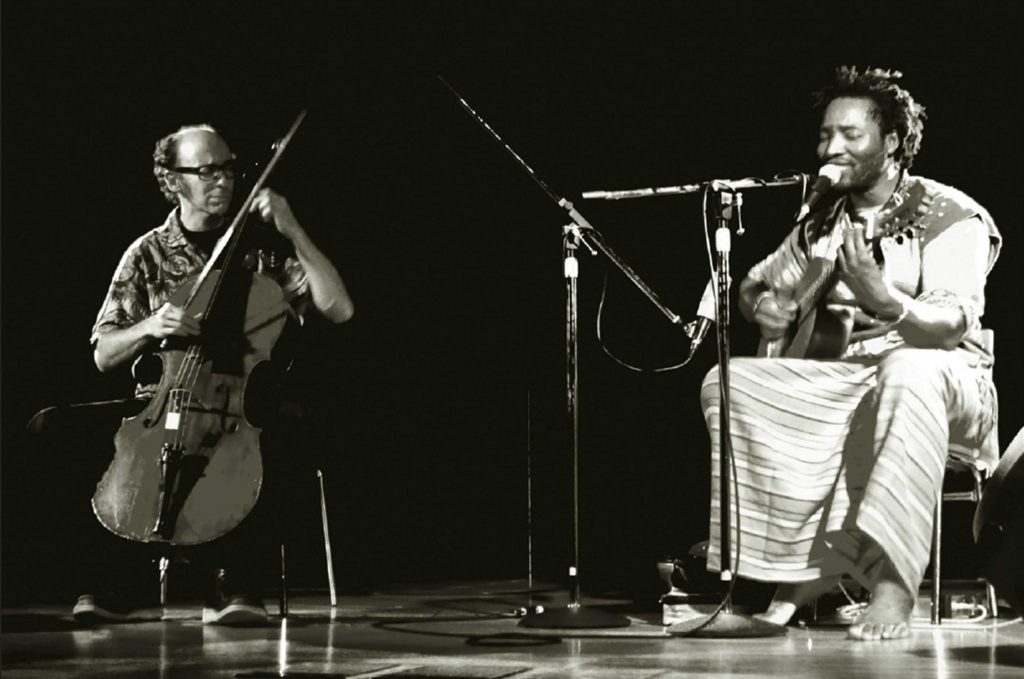 Popular knowledge claims that music is an universal language, capable of overcoming any boundary between people. Underlining this popular wisdom, we enjoy what this duo has to offer us, music as an expression of sharing, a celebration of life.
On the one hand, we have Mû Mbana from Guinea Bissau. This charismatic poet, musician and singer of a wide vocal range plays a variety of instruments from guitar to Simbi. On the other hand, Russian-born Sasha Agranov is a versatile cellist who grew up and studied in Israel and who has since continued to travel. He weaves a sonoric landscape drawing from his origins, early music, and free experimental sounds.
Both musicians of extensive knowledge and mastery of their respective traditions, they harbor an exquisite passion for innovation and a wide, pluralistic vision of their creativity. These two complementary figures were destined to meet. Through them, a kind, sensual and embracing universe of sound unravels, where strings and vocal chords seamlessly give and take the lead.
The different textures offered by the bowed strings of the cello and plucked strings of the Simbi fit together in a natural way, creating the perfect bedding upon which the voice sings songs of great spiritual intensity … changing from saturated and suffocating, to light and relaxed, to intense and accelerated. As in life itself.
It is with such musicians as Mû and Sasha that we are able to move into a different sphere than the usual, a sphere which beckons us to listen attentively, to hold our breath, and above all, to feel … as their music resounds in our bodies and shakes our souls.
Sasha Agranov
Musician, Celist Composer
Sasha music is a mix of various musical universes, creating deep and lush sound scapes he is on a constant search for pure sound which attracts true emotion.
After his formation as a classical and baroque cellist he discovered experimental music and free jazz, also world music ,rock/pop and creating music for theater, circus and dance performances.
He was Born in Leningrad in 1977 and moved to Israel in 1979.
Sasha studied with Hilel Zori in the Tel Aviv Rubin Music academy 1995-99.
In 2000 he began baroque cello studies in the royal conservatory of the Hague under the mastery of Jaap Ter Linden and studied electronic music in the sonology department, graduating in 2005.
In 2006 he moved to Barcelona where he discovered an infinite stream of musicians and styles of music from all over the world .
He created the aquatic music duo Selva de Mar together with percussionist Pablo wayne, touring through, Jordan, France, Holland, spain, Italy Japan and the Reunion island . Selva del Mar played at important Festivals such as Sud de Arles in france or Isole che Parlano in Sardegna Itali.
Sasha plays and records regularly with the groups Piccola Orchestra Gagarin (experimental free jazz), Iniche (Mali Blues), Rubato Appassionato (Baroque Music), in a duo with the singer and poet from Guinea Bisau Mu Mbana and the group Nihan and the single Camels.
He has accompanied internationally renowned artists such as Patti Smith (palau de la musica Barcelona), Zan Mari Bare , saodaj' (reunion island), Sinema dub Monks (touring through japan and spain), Paolo angeli concerts in italy and spain
Sasha composes sound tracks for short movies and video art such as Away from the irania artist Parisa Ae , Nation for Two by the artists Hertog Nadler. The Guardian by studio N9ve , Fugir del oblit by abel Moreno.
Musica for Dance pieces for choroografers such as Lali Aiguade and Jordi Mas.
He plays and creates regularly with circus companies Circ Panic , Domichovsky Agranov , Cacophonic Pictures Orkestar
Mû Mbana
Voice & Guitar
Mû Mbana multifaceted artist, singer, poet and composer. Shades and flavors of Africa germinated around the world.
Born on the island of Bolama, Guinea-Bissau, grew up influenced by the music of his immediate surroundings, especially the female voices and religious music of the Brame (Mancanha) and Bidjugu peoples.
Multi-instrumentalist, songwriter and poet. The maturity of his music and the instruments that accompany it are as a material reflection of his soul of musician and artist. His vast and eclectic curriculum includes 10 albums already published and many stages of Europe, Africa and America.
He has collaborated with many musicians and projects like Selva de Mar, La Locomotora Negra, the great Manu Dibango, Simão Felix, Rosa Zaragoza, Lula Pena, Jurandir Santana or Fabiana Cozza.
Currently, horseback between Bissáu and Barcelona, alternating his solo work with paralel projects like, Nua Trio, with bassist Javier Colina and Jesus Mañeru, Mû & Sasha with Israeli cellist Sasha Agranov, "Mornas Ku Nghuni Nghunidúras" tribute to Guinean authors and the big band Colectivo BDB.